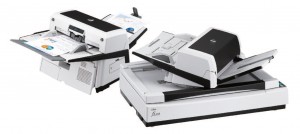 Scan at speeds up to 90ppm/180ipm with a production scanner from Konica Minolta. The Fujitsu fi-6670 provides exceptional paper handling with an intelligent multi-feed function to drastically improve the batch scanning process. Plus, hardware-assisted VRS CGA further improves the speed performance of your production scanner when using certain advanced VRS imaging features.
Valuable scanning software comes standard including full versions of Adobe Acrobat Standard, ScandAll PRO with Microsoft SharePoint connectivity and VRS 4.2 Professional image and productivity enhancement.
TWAIN and ISIS drivers and flexibility of many interface options (SCSI/USB 2.0 or VRS CGA) contributes to decreased deployment costs and improved interoperability with complimentary hardware and third party software solutions.
Other features include:

Energy Star rated and compliant with the EU's Reduction of Hazardous Substances and Volatile Organic Compounds
The fi-6670 production scanner includes a 90-day onsite, Limited Warranty
Fujitsu fi-6770 production scanners are designed to provide outstanding paper handling, high scan speeds up to 90ppm/180ipm and intelligent productivity enhancement features. An intelligent multi-feed function drastically improves the batch scanning process by allowing an the ultrasonic double-feed detection sensor to be trained to ignore intentional overlapping documents, including photos, label stickers, or taped-on receipts.
Fujitsu fi-6770 production scanners offer hardware-assisted VRS CGA to improve the speed performance
Scanning software is built-in including Adobe Acrobat, ScandAll PRO and VRS 4.2 Professional
Other features include:

TWAIN and ISIS drivers
Fi-6770 production scanners adhere to strict environmental regulations including Energy Star's energy consumption requirements and the EU's Reduction of Hazardous Substances and Volatile Organic Compounds
A 90-day onsite, Limited Warranty comes standard with all Fujitsu fi-6770 production scanners