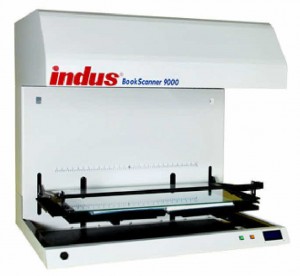 Scanning or copying pages from a book has always been an unwieldy task that risks damage to the book, with less than satisfactory results. Unlike typical flatbed scanners and copiers, the Book Scanner 9000 doesn't require the book to be turned over. Instead, it scans from overhead, protecting the book binding and at the same time producing high quality color, grayscale and black and white images.
Large Scan Area
Scan a book as large as 18 inches high x 28 inches wide when open, or a flat document of the same size. Books can be as thick as 4 inches and yet the Book Scanner 9000 delivers flat, distortion free images.
Formats Supported
The BookScanner 9000 supports the most popular formats: TIFF, JPEG, JPEG2000, and PDF.
Quality Scans
Image quality is the most important requirement to the user. The Book Scanner 9000 is designed for sharp, high quality images. Only the center of the lens is used to expose a narrow band of the original document to the 7500 pixel line CCD that travels across. This produces a high quality, distortion free, true optical 400 dpi scan from corner to corner.
Fast Speed
The BookScanner 9000 is designed to give fast results. It scans the entire 28 inches wide by 18 inches high book in just 2.7 seconds. No time is wasted because the Book Scanner 9000 scans in both directions of travel.
Superior Illumination
In any imaging system, good illumination is important to produce high quality results. The BookScanner 9000 uses a bank of powerful long life LEDs that only illuminate a small portion of the original at any one time and travel with the imaging system to produce vivid, high quality images.
Built-in Book Cradle
Prevent damage to spines of thick books and even out the two sides of the book to obtain flat and focused images with the help of the built-in book cradle and cover glass.
Accessories for flexibility and convenience
Foot Switch
Copy Board
Custom Cabinet
Bundled with Virtual Library Software
Every BookScanner 9000 is delivered with Virtual Library software. Set up the scanner to deliver deskewed, black border eliminated, high quality images. Set for color, grayscale or black and white images. Control the resolution. Fast viewing, panning, zooming, rotation, multi-masking and cropping are all included. Also included is a Kiosk-version for patron use that works through touch screen. Switch from English to French or Spanish with one click. Create meta data, publish images to the web and much more using Rescarta, added at no charge.
The Indus Advantage
An American company with the only Book Scanner made in the USA. We provide complete turnkey solutions including on-site installation, user training, and most important of all, on-site service to keep your scanner and software current. Reduce downtime with on-site service.
THE SCANNER WITH A BRAIN
User-Friendly Features for Easy Operation
Automatic color compensation

Automatic format recognition

Recognition and suppression of black borders

Automatic page separation

Flexible format selection

On-screen adjustments for production environments
THE MANY USES OF THE BOOK SCANNER 9000
Use for Preservations and Special Collections
Because the quality is superb and from corner to corner, the scanned image is very sharp, the colors are vivid and very closely match the original.
Use for Inter-Library Loan Work
Because we have seamlessly integrated the software to popular document delivery systems like Ariel, Odyssey, Illiad and Relais.
Use as a Production Scanner
Because the scanner is fast and can scan books that are 18″ high x 28″ wide when opened, even a County Record book can be scanned.
Use as a Kiosk Station in a Library

Because the scanner comes with a walkup touch screen software, it can be an ideal scanner for patron walk-up use in libraries.
SPECIFICATIONS
Format
US Letter (8½ x 11) / DIN A4

US Ledger (11″ x 17″) / DIN A3

17″ x 22″ / DIN A2

Maximum 18″ x 28″
Technical Specifications
Resolution: 200, 300, 400 dpi

Scan time: 2.7 seconds for 28" wide at 400 dpi

Interface: USB 2.0

Operating System Compatibility: Windows 2000, XP, Vista, Windows 7 – 32 bit

Software: Virtual Library

Lamps: LED (Light-Emitting Diode)

Dimensions (H/W/D): 38″ x 41″ x 30″ (96.5 x 104 x 76 cm)

Weight (incl. packaging); 190 lbs (250 lbs), 86 kg (114 kg)

Power supply: Voltage: 95 – 240 V Frequency: 47 – 63 Hz

Environment: Temperature: 40° to 104° F (5° to 40° C) Noise: maximum < 30 dB
Accessories
Foot Switch

Copy Board

Custom Workstation with Monitor Shelf