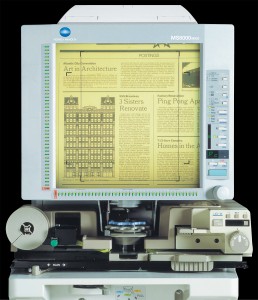 The MS6000 MK II is a powerful microfilm conversion machine that's easy to use — and makes your microfilm and microfiche information more powerful by combining the ability to read on screen, print on paper, and scan and digitize for electronic distribution.
12″ x 12″ anti-glare screen for a clear, detailed view of your microfilm images.
The microfilm conversion device accepts a wide range of film and fiche carriers for microfiche, jackets, aperture cards, 16mm and 35mm roll film, and 16mm film cartridges.
Other features include:

Auto imaging and enhancement features let you adjust image position and alignment, zoom in on hard-to-read areas, enhance quality and trim and mask scan areas.
High-resolution PC scanning enables you to incorporate microfilm information in websites, Emails, faxes and desktop publishing projects.
High-speed video connector for fast direct printing and optional USB 2.0 compliant connector for PC interface.
Switch from PC scanning to laser printing on your microfilm conversion machine at the touch of a front-panel button.
Two laser printer options let you select output speeds of up to 20 ppm or 8 ppm — whichever best meets the needs of your application.