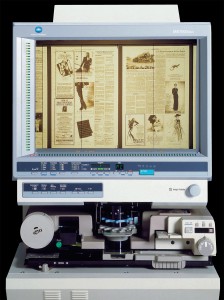 The MS7000 MK II microfilm scanner gives you a large widescreen view of microfilm and microfiche originals, so you can quickly read and review more information on screen, print on paper, and scan and digitize for electronic distribution.
12″ x 17″ anti-glare screen for easy viewing of two-page spreads and wide originals.
Accepts a wide range of film and fiche carriers for microfiche, jackets, aperture cards, 16mm and 35mm roll film, and 16mm film cartridges.
The microfilm printer even offers a check stacking function that allows you to scan and print check front and back on a single sheet.
Other features include:

Auto imaging and enhancement features let you adjust image position and alignment, zoom in on hard-to-read areas, enhance quality and trim and mask scan areas.
High-resolution PC scanning enables you to incorporate microform information in websites, Emails, faxes and desktop publishing projects.
Built-in USB 2.0 compliant connector for PC interface and high-speed video connector for fast direct microfilm printing.
Switch from PC scanning to laser printing at the touch of a front-panel button.
Laser printer and wide-format microfilm printer options give you output to match the needs of your application — and two MS7000 MK II scanners can share a single printer for greater cost-efficiency.