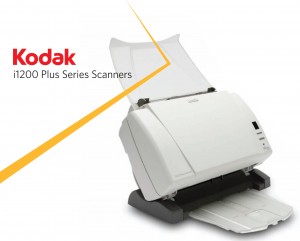 Meet all your workgroup needs with an easy-to-use scanner that fits just about anywhere.
Small, powerful and packed with features and benefits, the KODAK i1200 Plus Series delivers on your desktop scanning needs. It can auto-feed almost anything at speeds up to 45 pages per minute, including documents as small as an identification card or as long as 863 mm (34 in.). The i1200 Plus Scanners provide you with a wide range of output options—including searchable PDF files for easy information access.
All the ease of use and versatility you're looking for—no matter what the job is.
Our Smart Touch feature enables you to easily select the right scan settings and applications for the job. With the touch of a button, scan documents to:
Microsoft SharePoint
File and storage
E-mail, including Web e-mail clients such as Gmail, Yahoo! and Hotmail
Printers
Other desktop applications that support TIFF, JPEG, RTF, BMP, PDF and searchable PDF
In addition, this powerful scanner has a unique tilt-and-scan feature that allows you to select the best scanning position for the job:
Flat with tray extended for higher-volume batch scanning
Fully upright with the input tray folded down for ad hoc and transaction scanning (you can even position the scanner up against a wall and still auto-feed documents)
There are also optional "tethered" flatbed accessories in A3 and A4 sizes for more convenience and flexibility. Just connect either, and you can scan A3 exception documents at up to 600 dpi and A4 exception documents at up to 1,200 dpi optical resolution. Then just unplug and store the flatbed. It's that easy!
Get exceptional image quality.
It starts with 600 dpi optical resolution for razor-sharp images. But we didn't stop there. These compact machines feature our latest Perfect Page technology, which delivers imaging benefits such as:
Streak filtering, to improve the appearance of images and reduce the need for cleaning
Image hole fill, for cleaner-looking images from hole-punched documents
Sharpness filtering, which enhances overall image clarity
It all adds up to outstanding image quality that's virtually automatic. No need for rescans!
Enjoy unique value.
With all this capability, affordable pricing and the peace of mind that comes with KODAK Service & Support, the i1200 Plus Series Scanners deliver an extraordinary combination of performance and value.
Click Here to View or Download Brochure